Nintendo's Switch OLED Model Makes Its First Public Appearance In Japan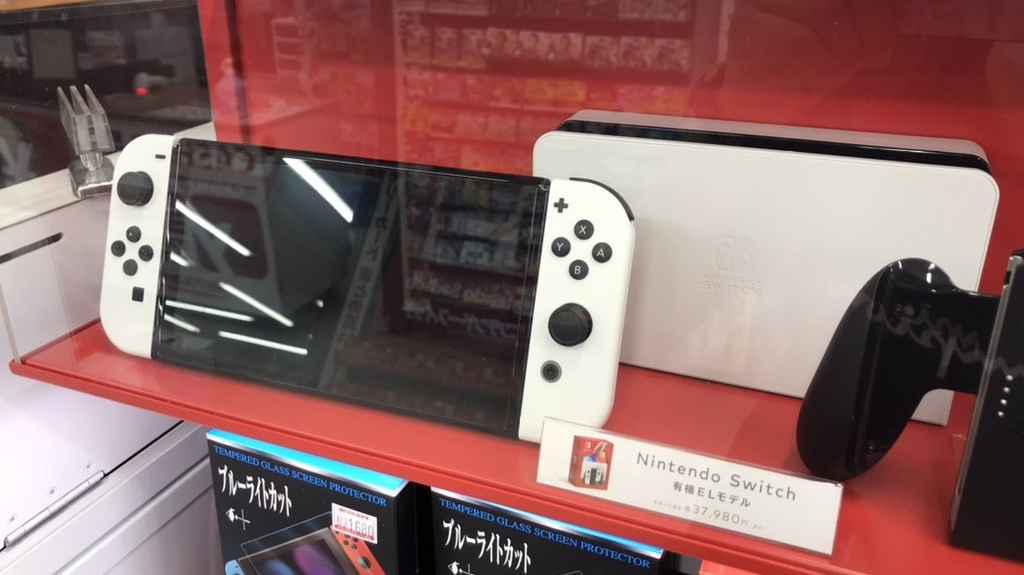 Launching worldwide October 8th.
We're just over halfway through September and that means we're getting closer to the Switch OLED's release on October 8th.
We've seen trailers from Nintendo, read "hands-on" first impressions from the media about it and now we've got a first look at the device in the wild. As highlighted by our friends at VGC, the new model priced at $349.99 / £309.99 has just gone on display at various retailers around Japan - including Nintendo's very own Tokyo store.
Limited Run's Japanese Business Manager, Alex Aniel, was able to grab some photos of Mario Kart 8 Deluxe running on the system - noting how "vibrant" the new 7.0 inch OLED screen was. Obviously the smaller bezel is an improvement, too.
The Switch OLED is on display at Nintendo TOKYO. The screen looks very vibrant and the smaller bezel is a nice step up. pic.twitter.com/Adu88PMHFU

— Alex Aniel (@cvxfreak) September 18, 2021
And here are some other shots - the first is of the system behind a glass case (courtesy of @nattu_ninmosa59), and the second batch of photos are also from Nintendo's Tokyo store (thanks, @bunnagashi) - showcasing Splatoon 2 and Metroid Dread on the new display.
スイッチ有機ELモデルいいじゃない pic.twitter.com/8O3s8RBsri

— ブンジ (@bunnagashi) September 18, 2021
The new dock that comes with the OLED model includes a LAN port and will be able to receive updates. In fact, Nintendo's already rolled out an update for it in Version 13.0.0 of the system firmware. Earlier this week, the company also announced it would reduce the price of the base model system in select regions around the world. Notably, this does not include the US.
Switch OLED pre-orders will open next week in Japan on 24th September. As for the US and UK, you can check out our handy Nintendo Life pre-order guide. Will you be picking up the new Switch OLED model when it launches next month?
Read the full article on nintendolife.com